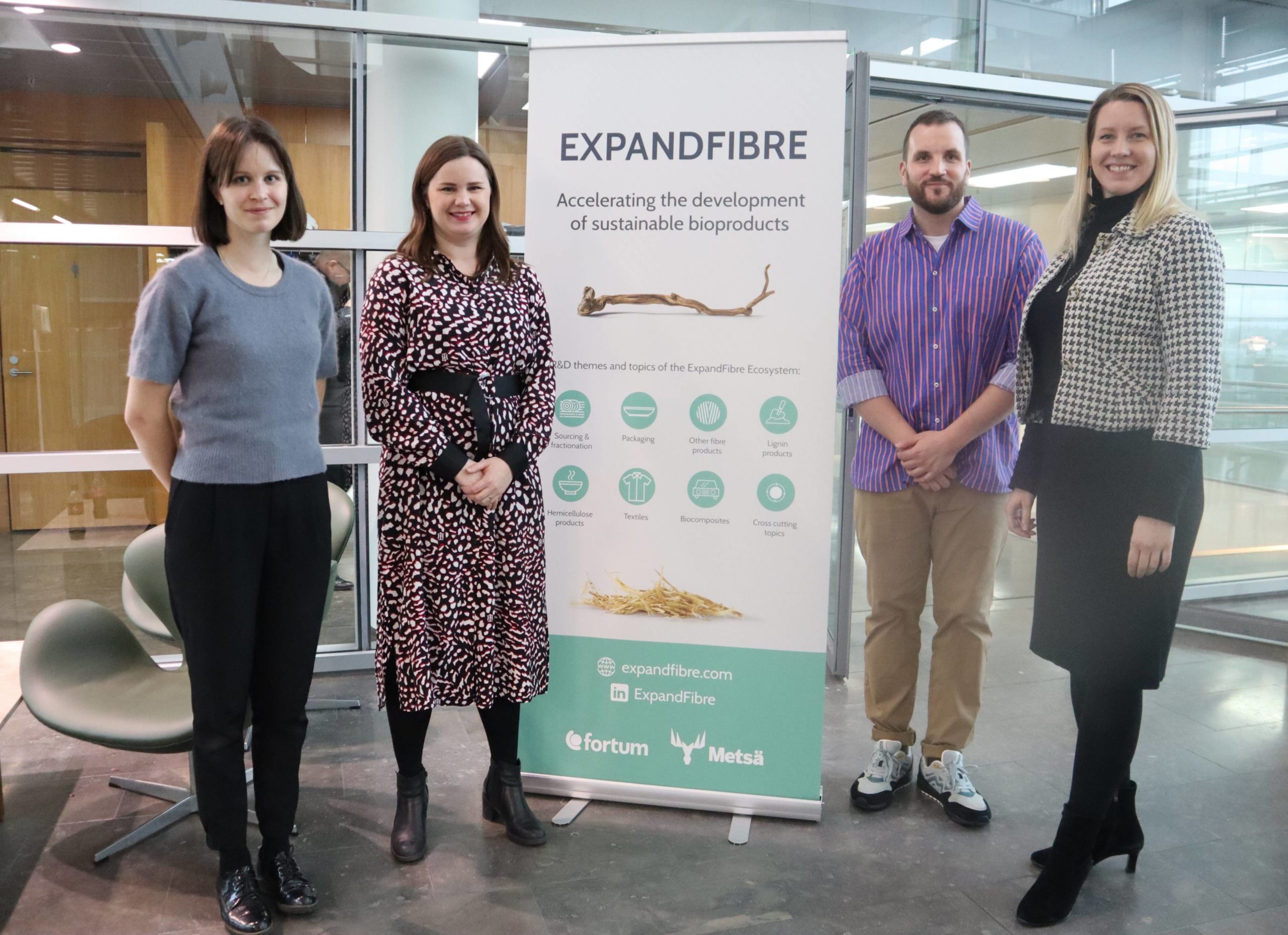 The 2nd ExpandFibre annual public seminar brought together biomaterial enthusiasts
News
The 2022 edition of the ExpandFibre annual public seminar celebrated the second full year of the ExpandFibre Programmes and Ecosystem on the 18th of November, inviting everyone interested in the themes of ExpandFibre to learn more about the newest highlights from the ExpandFibre community as well as hear informative keynote presentations from invited experts. This was the first hybrid ExpandFibre event with approx. 60 people joining the event in person at Keilasatama 5 in Espoo, and about 100 participants following the seminar virtually.
The ExpandFibre Programme Managers Katariina Kemppainen (Metsä Spring) and Maiju Miettinen (Fortum Bio2X) opened the event welcoming all participants to the annual seminar. The Programme Managers continued to offer a broad overview on the status of ExpandFibre at the end of 2022 incl. status of ExpandFibre Programmes and the Ecosystem. According to Katariinam the total Business Finland funding towards ExpandFibre Ecosystem totalled 33 M€ at the time of the annual seminar.
Katariina and Maiju also shared highlights from the 2nd annual Ecosystem survey conducted in Aug-Sep 2022 and offered insights on what's to come in 2023 for ExpandFibre. The Programme Managers concluded their introductory presentation by encouraging interested parties who are not yet part of the growing Ecosystem to contact them via ExpandFibre homepage.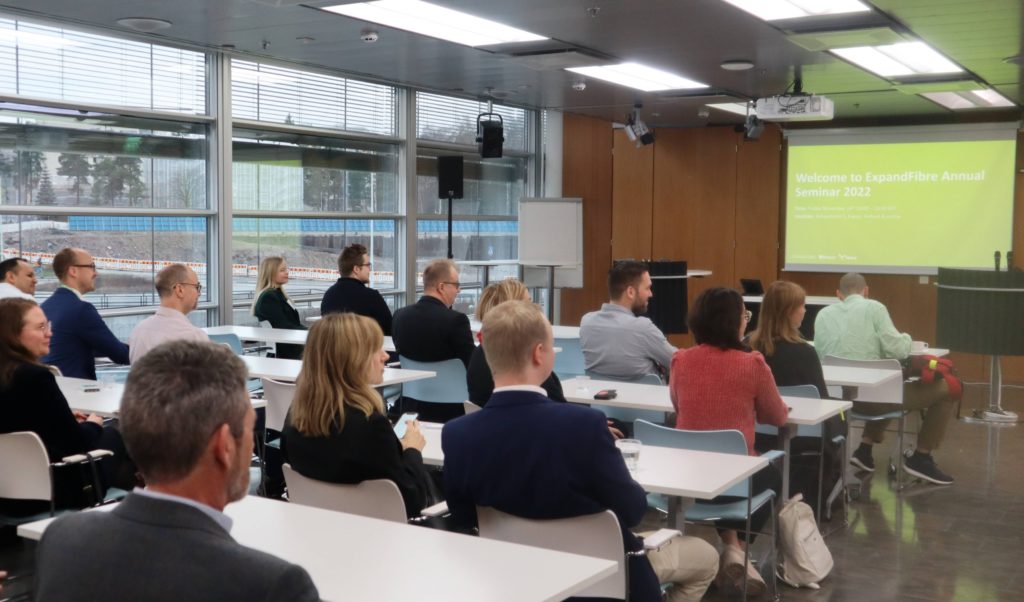 Programme highlights from Metsä Spring and Fortum Bio2X
R&D Manager Emilia Vänskä from Metsä Spring offered a dedicated look at Metsä's 3D Fibre product project – highlighting the path from an idea to an actual industrial product. Emilia focused on three aspects of the 3D Fibre project that is centering around industrial research for developing new products in a laboratory and pilot environment: 1) why and what Metsä Spring's team is developing, 2) project highlights so far and 3) future work ahead. Emilia also gave glimpses on the project's main achievements including the creation of the Muoto® brand, several innovation awards as well as the opening of the demo plant in Äänekoski in spring 2022.
Head of Business Development at Fortum Bio2X Mirka Puputti relayed Fortum's greetings from the ExpandFibre Programmes with her overview on the activities of the Fortum Bio2X development programme turning biomass into value-added products. Mirka explained the history of Bio2X since its start in 2014 and offered current highlights incl. the first biorefinery project Assam BioRefinery Private Limited (ABRPL) in India as well as the second European biorefinery project Triticum, which maximizes the value of agricultural residues – focus on straw – producing cellulose pulp, lignin and furfural. Mirka also offered very interesting looks into Fortum's work in Organosolv technology concept, feedstock quality assurance for straw and optimization of raw materials for different end products. To conclude her presentation Mirka highlighted the need for extensive R&D collaboration to truly enable the transition into more sustainable and greener processes and products.
Insightful keynotes on the textile industry and the challenges of corporate foresight and strategy
ExpandFibre team was delighted to invite two accomplished professionals to deliver their keynotes for the seminar's participants. Kirsti Cura, a postdoctoral researcher from Aalto University, delivered the annual seminar's first keynote on the transparency and traceability of the modern textile industry. Kirsti highlighted the complexity of the textile supply and value chains, as well as showcased how current textile and clothing production and consumption are not sustainable – they create negative impacts to climate change, increase pollution and deteriorate biodiversity along with a multitude of other negative social impacts. Kirsti concluded that transparency and traceability are essential towards circularity and sustainability in the future textile value chains, as information and knowledge derived from data can act as a catalyst for sustainability in the value chain. In closing, Kirsti highlighted that communication, collaboration and trust across the entire value chain make transparency, traceability, and sustainability reality.
Antti-Jussi Tahvanainen, Research Team Leader of Corporate Foresight and Strategy at VTT, gave the day's second keynote presentation titled "What's the future and why do businesses have a hard time coping with it?". In his presentation Antti-Jussi delivered interesting views on the fundamentals of the concept of "future" and why foresight as a business function has been largely overlooked by the executive management of many companies. Thanks to the unfortunate events of the past few years, many corporations have thankfully started to recognize the importance of foresight much better. According to Antti-Jussi, systematic foresight can actually help companies to outperform their competition and prepare better for upcoming events. Antti-Jussi also showcased the work that his team at VTT does within the theme of foresight, mentioning in particular the collaborative STRA4 project.
Spotlight on ExpandFibre Ecosystem's projects
The annual seminar also presented the two newest project additions to the Ecosystem as well as showcased two presentations from longer running Ecosystem projects. Miika Nikinmaa, Lead of Biomaterial Solutions at VTT, presented the introduction to HiPer project (High Performance Cellulose-based Composites), which vision is to create new light weight, sustainable composite materials enabling new business to the Finnish industry. According to Miika, foam forming with thermoplastic materials is a radical technology enabling production of strong and light weight structures, without losing fiber length during the process. The second new Ecosystem project introduction came from FurBio project (Furfural-derived Resins and Biocomposites), which was presented by Associate professor Juha Heiskanen from University of Oulu. Juha explained the basics of the project and its focus on the development of furfural-derived resins and their ability to replace traditional fossil-based resins in several industrial end use cases such as biocomposites.
Greetings from longer-running Ecosystem projects were kicked off by Associate Prof. Michael Hummel from Aalto University representing the FinnFiberColor project. Michael explained how the project has advanced since its start in February 2021 focusing on turning cellulose into new Finnish man-made cellulose fibers and sustainably colored textiles. According to Michael the project has concentrated on developing solutions for the challenges that textile fiber technologies, currently developed in Finland, will face when they will be integrated into the textile chain. Also, the project has looked into the development of two novel textile coloration technologies: spin dyeing and non-water salt-free using reactive dyes. FinnFiberColor project will conclude in January 2023.
Outi Koivistoinen, Senior Scientist at VTT, presented the final presentation of the seminar delivering greetings from the SynBioPro (Synthetic biology as enabler for scalable production of renewable chemicals and fuels) project team. According to Outi, the project has focused on seeking sustainable and scalable production alternatives for replacing the use of fossil resources with emphasis on biotechnical processes with engineered microbes enabling sustainable production from renewable resources such as lignocellulosic sugars and lignins, which are abundantly available raw materials. Outi elaborated on the potential of synthetic biology and how it accelerates the development of new and improved biotechnical processes potentially revolutionizing industrial production.
Looking ahead to 2023
The informative 3-hour annual seminar event concluded with closing words from Programme Managers. The event gave an excellent overview of ExpandFibre and its Ecosystem's achievements since their kickoff in May 2020. ExpandFibre events will resume in 2023 with 3-4 thematic workshops and/or webinars (some exclusive to Ecosystem members), as well as the third annual public seminar taking place tentatively in Nov-Dec 2023, in which certainly even more exciting projects, discoveries & results, as well as conversations are to be had!
The ExpandFibre team thanks everyone for joining the event on Nov 18th!
Main photo: Programme Managers Maiju Miettinen (Fortum Bio2X), and Katariina Kemppainen (Metsä Spring), Project Manager Andreas Lindberg, (Spinverse) and Director, Bioeconomy, Kaisu Leppänen (Spinverse).
More information:
Metsä's Muoto® products
Fortum's Bio2X development programme