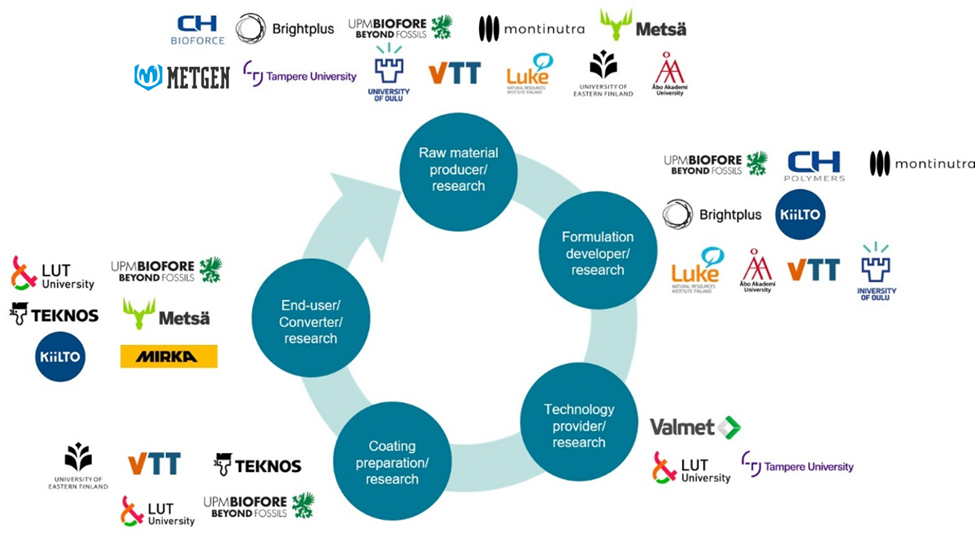 SUSBINCO project aims to make Finland a global leader in bio-based packaging
Projects
Eleven companies and seven universities and research organizations have joined forces to accelerate the research and development of sustainable bio-based binders and coatings for different applications in a co-innovation project. Prof. Chunlin Xu from the Laboratory of Natural Materials Technology at Åbo Akademi University, as the Principal Investigator, is leading the consortium project. The project supports very well the innovation ecosystem around ExpandFibre, and its value chain supports the strategic bio and circular economy landscape in Finland.
The 2-year Sustainable Binders and Coatings (SUSBINCO) co-innovation project with a total budget of 10.1 M€ is focused on sustainable bio-based binders and coatings that can be used in versatile applications. Such applications are for example fiber-based packaging, gasket materials, wood products, paints, adhesives, sealants, and abrasives. SUSBINCO is divided into five holistic work packages. Within these WPs, the research organisation partners will work closely with the industrial partners to identify and target all tasks and demands of various bio-based binders for different product applications aiming at highly competitive products.
Developing sustainable bio-based binders and coatings
The overall aim of the SUSBINCO project is to develop sustainable bio-based binders and coatings as durable and safe alternatives for fossil-based materials in different product applications, which have a total market value of over 1,000 billion euros. SUSBINCO, with its ambition to enable 80 – 100 % bio-based content in the developed products, will support Finland to be a development and market leader of those targeted products. There is a great need for these new bio-based, safe alternatives as they lead to reduced greenhouse gas emissions and a reduced need for fossil-based raw materials.
As a starting point for the development of these bio-based packaging materials, competing non-food wood-based alternatives with limited chemical modifications are favoured. Product performance, raw material availability and applicability, i.e. technical and economic feasibility as well as the application specific regulatory matters and sustainability are kept in mind from the beginning. Eco-design aspects, such as biodegradability, recyclability and life-cycle assessment, are integrated into the development. The project will focus on supporting the increasing use of industrial side-streams and residues such as barks and sawdust, as well as novel uses of pulp. Materials development is the most important enabler for addressing the current challenges and opportunities.
Focus on several functionalities when substituting fossil-based materials
There are several functionalities, which need attention when aiming to substitute fossil-based materials in different applications. For the circular economy of the materials, the aim is to assure the recyclability and to improve side stream usages and related processes. In the development of materials, attention must also be paid to addressing the expected future developments in regulation and consumer awareness.

Product safety standards are tightening and some limitations to raw material basis might arise, both requiring efforts from the research community.
Consortium with 18 actors
The consortium consists of 11 industrial companies, of which 6 have their own parallel projects, and 7 research organizations formed with the right mixture of extensive interdisciplinary expertise, knowledge, and competence ranging from raw material processing to product development and application evaluation as well as LCA analysis and final product commercialization.
The development is expected to generate 532 M€ of exports in 2030 for the involved industrial partners. The consortium partners expect synergies along the value chain between both the industrial and research partners, resulting in new technologies and a supporting scientific network to speed up R&D and commercialization within Finland's sustainable packaging and paint sectors.
The industrial partners with their own parallel research projects are as follows:
CH-Polymers, Metsä Board, Mirka, Montinutra, Teknos, and UPM. In addition, Brightplus, CH-Bioforce, Kiilto, MetGen, and Valmet Technologies will participate in the project with in-kind work and steering. The research organisations in the consortium are Lappeenranta-Lahti University of Technology (LUT), Natural Resources Institute of Finland (Luke), Tampere University (TAU), University of Eastern Finland (UEF), University of Oulu (UO), VTT Technical Research Center of Finland (VTT), and Åbo Akademi University (ÅAU).