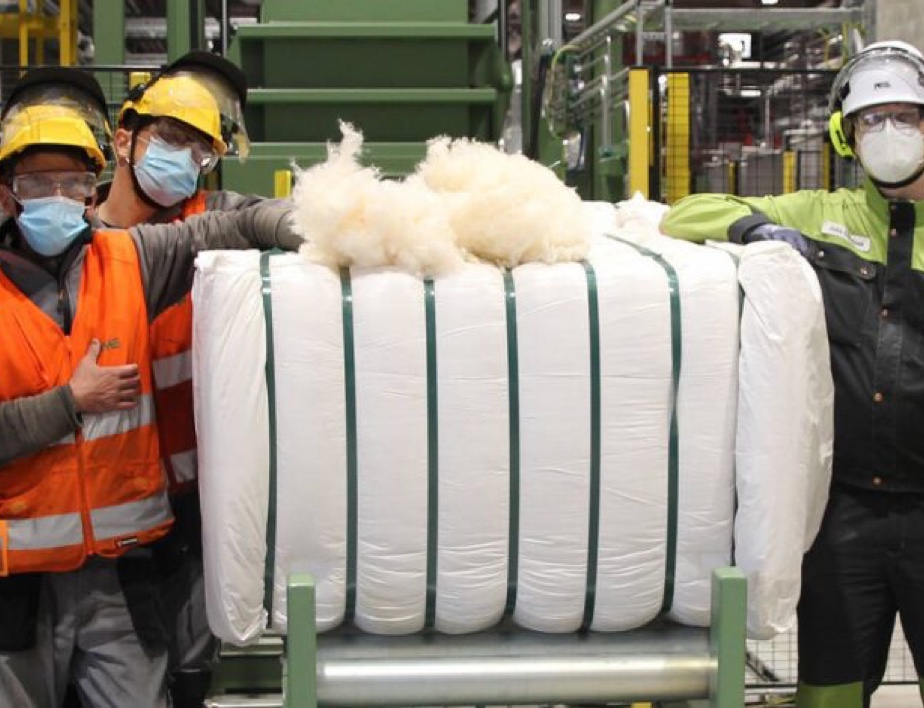 Production started at the unique textile fibre demo plant
News
The textile fibre demo plant in Äänekoski, Finland, owned and operated by MI Demo Oy has now reached the stage where the first batch of product, i.e. wood-based textile fibre, has been produced (see photo).
In late 2018, Metsä Group's innovation company Metsä Spring and Japanese ITOCHU Corporation decided to establish a joint venture, MI Demo, and within the context of the JV, construct and start operating the demo plant converting Metsä Group's paper-grade pulp into textile fibre using a novel production process. As a result of a major construction project, successful collaboration with main equipment suppliers and test run activities, the extended MI Demo team has now been able to produce the first batch of textile fibre.
"Reaching this stage of the investment project is a significant milestone within the overall demonstration project. I am very proud of our team and all the partners involved for their dedication and professionalism. This is collaboration and co-creation at its best," says Niklas von Weymarn, CEO of Metsä Spring and Chair of the Board of MI Demo.
The test runs will be completed in the autumn. When this has been achieved, the actual work to demonstrate the feasibility of the new concept begins. In the best-case scenario, a clearly larger textile fibre factory would be built in Finland in the future.
See more information at https://metsaspring.com/production-started-at-unique-textile-fibre-demo-plant/
Fortum and Spinnova introduced the first straw-based textiles in the world
Fortum and Spinnova have introduced the first prototype product born out of their joint development of using wheat straw in the production of highly sustainable textile fibre. The showpieces include a knitted t-shirt, as well as a jacket and skirt made of a woven fabric on organic cotton warp. The prototype material is unique also due to its extremely low environmental impact from raw material extraction, processing and manufacture, verified by life-cycle analysis (LCA).