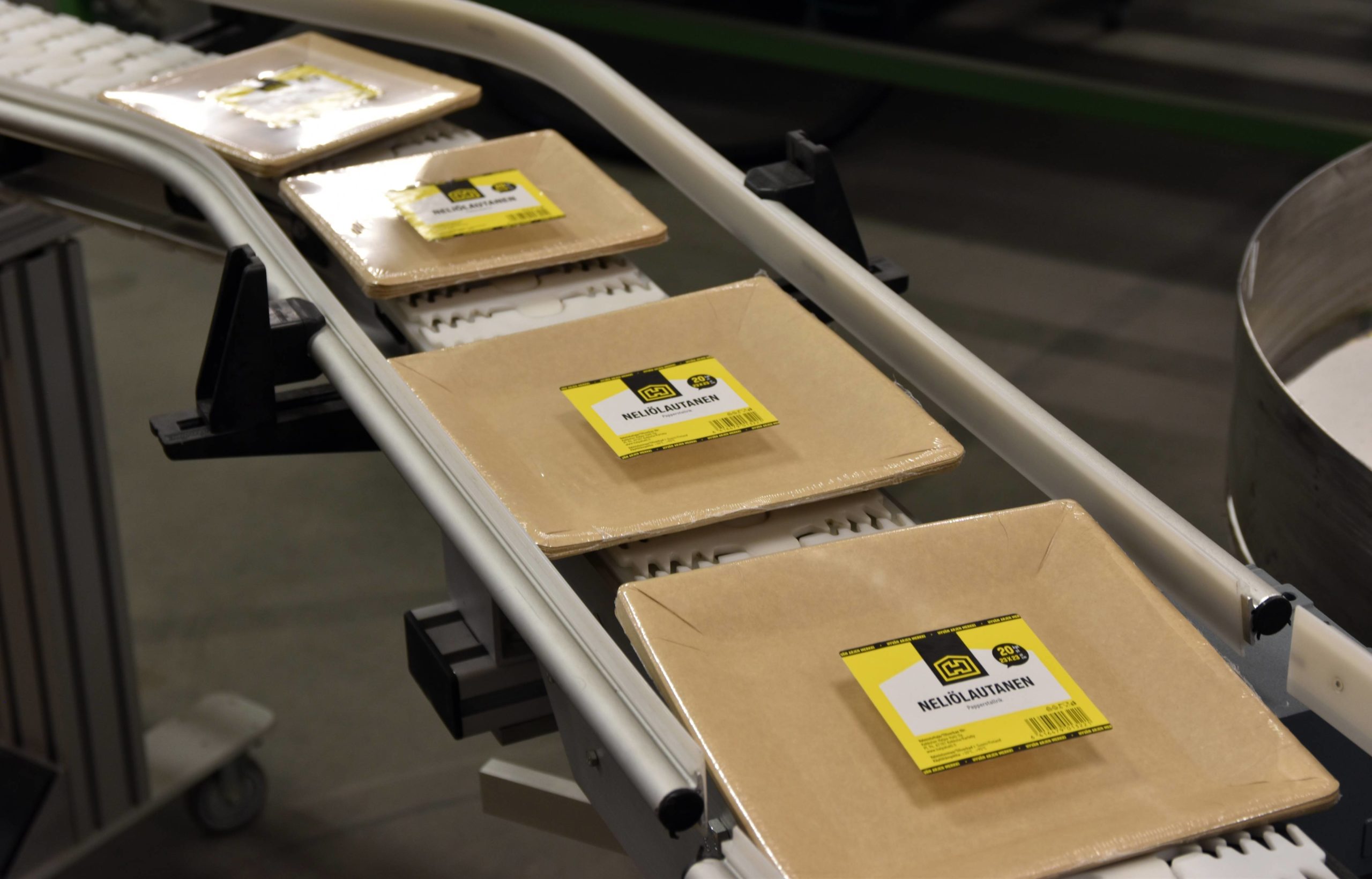 New ExpandFibre member Mini-Maid explores sustainable barrier materials for their paper plates
Members
Mini-Maid is a Finnish family business manufacturing paper and carton plates. They are highly interested in finding more sustainable barriers and packaging solutions to replace fossil raw materials in their operations. According to Managing Director Mikael Grahn, wood and plant fibre based materials have been identified as viable alternatives — Mini-Maid is therefore looking forward to exchanging learnings on these materials with the ExpandFibre member companies.  

More than one billion plates per annum
The Managing Director Mikael Grahn starts by telling the fascinating history of the company. Mini-Maid was founded in 1986 from scratch by Mikael's father after the business for sports textiles dried up and something else had to be created. Today, the production capacity is more than one billion plates per year, and the company has 100 employees with 95% of their production going overseas as private labels.
Mikael explains that after the EU directives banned plastic plates, the demand for paper and carton plates boomed. With the increased demand, Mini-Maid wanted to dig deeper into new innovations related to sustainable raw materials and this is where joining the ExpandFibre ecosystem came into picture.
Replacing fossil-based binders with plant-based ones
Mini-Maid has an objective to find new raw materials as the EU Single use plastic products (SUP) directive redefines what is currently allowed in paper plates as barriers. In dispersions, the current SUP directive defines that barriers containing fossil-based binders are classified as plastics. Mini-Maid is therefore interested in developing new barriers based on wood or plant fibres. Further, they want to replace plastic shrink-wrappers in packaging with better alternatives.
Mini-Maid is keen to learn from the ecosystem members how wood and plant fibres can be made durable and user-friendly using, for example, heat in the production processes — a method they use in forming carton into plates. According to Mikael Grahn, another objective at Mini-Maid is to explore how their products could be used more than just once — it is important to avoid single-use products also in paper and carton plates.
Mini-Maid naturally has active collaboration with the nearby cardboard factories and actors in the forest industry, carrying out product development and testing with them. A lot of input for product development comes from the customers, who are often struggling to follow the ever-changing EU directives imposed on raw materials. Mini-Maid wants to keep on top of things and closely follows the development of the EU directives to help their customers understand what comes next and find solutions to new products with them. Today's customers call for biodegradability and sustainability, and Mini-Maid is set to manufacture as green products as possible and can offer the required know-how in doing so.
Looking forward to sharing ideas with the ExpandFibre ecosystem
To strengthen their network and expertise in the field, Mini-Maid is looking forward to getting development ideas and new partners among the members of the ExpandFibre ecosystem. At the same time, Mini-Maid is open to share their understanding of fibres and their characteristics in different temperatures, suitability for a variety of tools, as well as their compatibility with food products. Mikael laughs: "Over the years, Mini-Maid has gained understanding on different carton types the hard way."
Mikael Grahn concludes: "In line with the Ostrobothnian entrepreneurial spirit, we want to be a company producing renewable and recyclable products, trying to steer away from the term "disposable"! We are looking forward to developing ecological barriers with the ExpandFibre ecosystem members and in turn, want to offer our expertise on the applications for the sustainable materials."
More information: https://minimaid.fi/