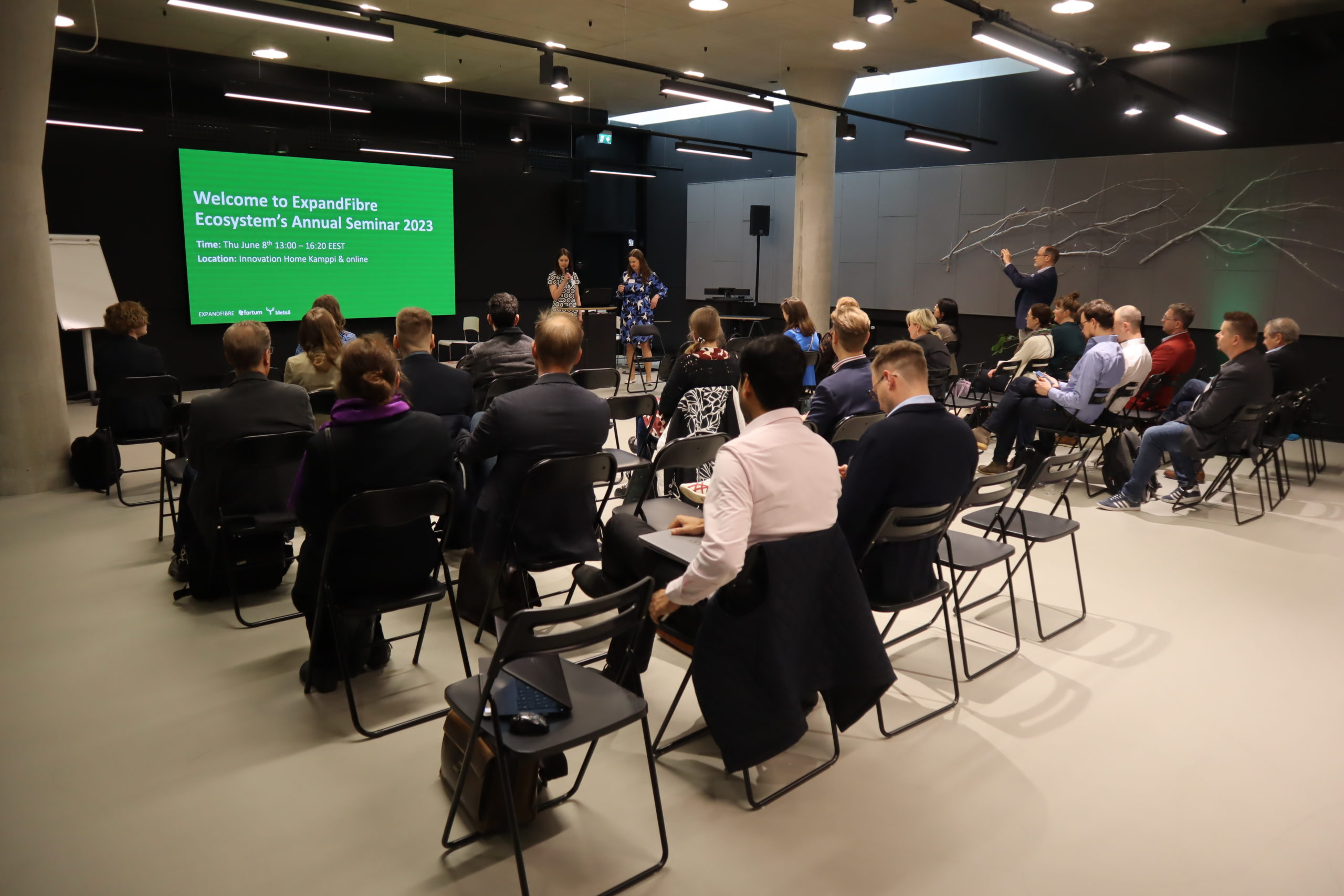 ExpandFibre Ecosystem members celebrated their own dedicated annual seminar on June 8th, 2023
News
The ExpandFibre Ecosystem members gathered in June both in person and virtually to Innovation Home Kamppi in Helsinki to celebrate the 2023 edition of the Ecosystem's own annual seminar. The event participants – approximately 40 persons onsite and 40 joining virtually – were treated to an informative status update from the ExpandFibre Programme Managers, engaging keynote presentation from Ecosystem member Kiilto, as well as several other key presentations from the ExpandFibre community. The annual seminar event was closed with a relaxed after work networking event, in which Ecosystem members updated each other on their latest activities over refreshments.
The annual seminar was kicked off with welcoming words from ExpandFibre's Programme Managers Katariina Kemppainen (SVP, Group R&D at Metsä Spring) and Maiju Miettinen (Technology Expert at Fortum Bio2X). Katariina and Maiju updated the Ecosystem members on the overall status of the Ecosystem with a little more than one year left in the Programme. Katariina also gave an overview on the ExpandFibre R&D&I roadmap update that took place earlier in May – read here for more information on the roadmap update. The introductory presentation of the ExpandFibre Programme Managers was followed by more detailed presentations from the Fortum and Metsä Group teams delivered by Hanne Wikberg (Head of Product Development at Fortum Bio2X) and Anna Suurnäkki (VP Research at Metsä Fibre).
In her presentation titled "Development Steps in Commercialization of Organosolv Lignin" Hanne Wikberg shared interesting insights into Fortum's activities around lignin and the technological approaches applied for its commercialization – namely the Formico® fractionation technology by Chempolis. Hanne shared updates on Fortum's biorefinery projects in India and Europe and highlighted the fact that long-term R&D activities and commitment are both needed to successfully enter new markets with lignin. Anna Suurnäkki from Metsä Fibre gave glimpses to Metsä Group's unique bioproduct concept in her presentation "Adding value to wood - Metsä bioproduct concept". Anna also highlighted Metsä's recent added value future products that are already in demonstration phase – Kuura® textile fibre and Muoto® packaging solutions. Anna concluded her presentation by focusing on collaboration that she had identified as a key enabler of future added value forest-based products, as well as mentioning the key role of research in supporting the creation of novel fibre-based bioproduct innovations.
To close the first session of the annual seminar, Oili Kallatsa (RDI Director at Kiilto) was welcomed to the stage to deliver her keynote presentation for the Ecosystem. In her presentation "Promise to the Environment – Towards Sustainable Cleanliness" Oili gave an overview on Kiilto as a company as well as detailing the important work that Kiilto does for environmental sustainability – for both Kiilto's raw materials as well as the packaging and logistics of Kiilto's end products. Oili also highlighted the status of the detergent and maintenance product industry in Europe, and how this massive industry will be affected by the European Commission's "Chemical Strategy for Sustainability" 2020-2040. Oili also wanted to set the focus on Kiilto's activities within the ExpandFibre Ecosystem on biobased materials for sustainable detergents collaborating with many Ecosystem members and being active in Ecosystem projects. To close her presentation Oili underlined the role of collaboration in Kiilto's mission towards sustainability, and demonstrated the active collaboration Kiilto is taking part in with various initiatives incl. SUPER Healthy Buildings Ecosystem kicking off in September 2023.
An entire session was dedicated for updates from the ExpandFibre Ecosystem projects. Three of the newest Ecosystem projects were introduced to the Ecosystem – SUSTAFIT, SmartRecovery and BioCarbonValue. SUSTAFIT project was introduced by Virpi Rämö (Senior Lecturer at Tampere University of Applied Sciences). SmartRecovery project focusing on boosting lignin commercialization was introduced by Miriam Kellock (Research Scientist at VTT), and BioCarbonValue was introduced by Virpi Siipola (Senior Scientist at VTT). More updates from all three projects will be shared later as they progress towards concrete publishable results.
Three longer running Ecosystem projects 4everPack, LigninReSurf and ValCel presented their results for the Ecosystem in more detail. Jussi Lahtinen (Senior Scientist at VTT) represented the 4everPack project and described the 2-year initiative's mission, as well as shared glimpses into its results, as the project is nearing its end in September 2023. According to Jussi the project was looking to answer how reusable packaging can be developed and scaled up and what benefits it can create for Finnish companies, with the mission to break reuse related myths and provide unbiased information to support the transition towards a circular economy for packaging. Jussi advised the annual seminar audience to follow the project's LinkedIn page for more detailed results and publications. Luyao Wang (PhD student at Åbo Akademi) gave a detailed look at the most up-to-date results of the LigninReSurf project coordinated by Prof. Chunlin Xu from Åbo Akademi. LigninReSurf, as suggested by the project name, is focusing on lignin with a goal to develop high-performance lignin-based copolymers and materials, new aqueous dispersion coating formulations, new thermoplastic materials, and novel bio-based porous membranes. Luyao shared results highlights and detailed currently ongoing work focusing on i) developing tools to utilize lignin-based thermoplastics (3D printing and Extrusion coating) and ii) exploring strategies to develop bio-based porous membranes.
Mika Härkönen (Professor of Practice at VTT) presented the work of ValCel project that ran from January '21 to March '23. According to Mika the project was successful in increasing the knowledge and understanding of i) the chemical and physical mechanisms in the cellulose fibre dissolution when using superbase SB-ILs, ii) changes in fibre structure using non-derivatizing DES treatments with high consistency processing, iii) fundamentals for chemical modifications made in ILs and DES, and iv) generic process model and TEA for the key processes in textile production with ILs. As key project achievements the ValCel team generated multiple scientific publications, conference presentations and one MSc thesis.
To conclude the annual seminar event two Ecosystem member organizations – KCL and Nordic Bioproducts Group – were invited to pitch and share their latest updates for the Ecosystem. Antti Laukkanen (Director of Development at KCL) presented the greetings of KCL's new ownership that took effect earlier this year of the over century old provider of laboratory and piloting services for the bioeconomy. Antti showcased KCL's current portfolio of pilot trial as well as laboratory services, and in addition touching on KCL BioHub – a new Business Finland supported project aiming for more versatile piloting infrastructure, especially for the commercialization of novel biomaterials on an open access principle. Anneli Auranen (Project Manager, Sustainable textiles at Nordic Bioproducts Group) took the stage as the final presenter of the day giving the seminar audience a look through the multiple activities of Nordic Bioproducts Group (NBG) – an Aalto University spin-off company developing and commercializing smart biotechnologies and biomaterials. Anneli explained how Aaltocell™ technology is the backbone of NBG's activities serving multiple product families, such as cellulose based products and even textile recycling. Anneli also showcased the Norratex™ technology that NBG is developing for staple fibres for textiles. The annual seminar event was an excellent way to wrap up the busy first half of the year for the Ecosystem, and already start setting sights for ExpandFibre's upcoming activities in the autumn – after the relaxing summer break, of course!