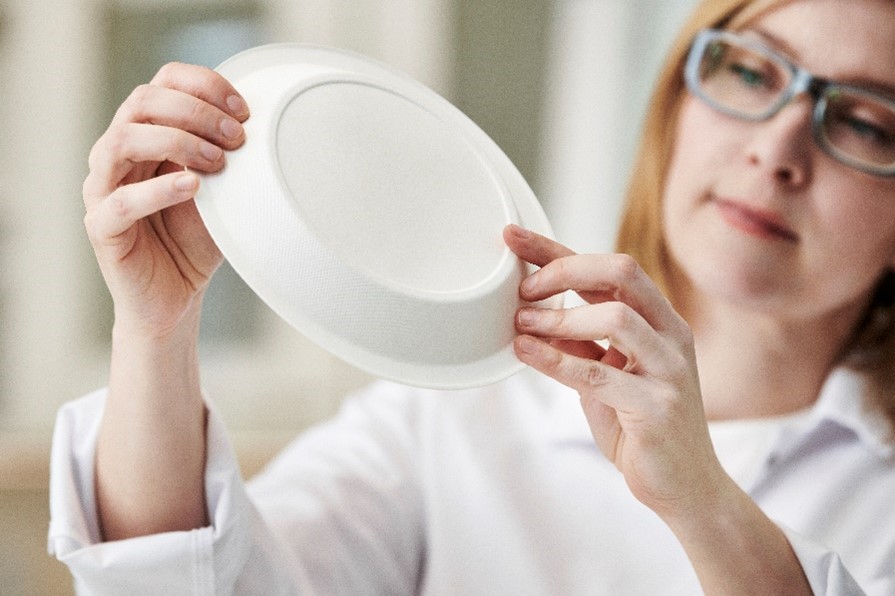 3D fibre product project of Metsä Group brings new dimensions to sustainable packaging
News
We had an opportunity to discuss with Tarja Heikkilä and Emilia Vänskä, who are driving an industrial research project focused on innovative 3D fibre products. In the project, Metsä Group's innovation company Metsä Spring collaborates with Valmet. The functional and cost-competitive packaging products offer a sustainable alternative to plastics.
Product Manager Tarja Heikkilä, with background in various leading positions in packaging and food industry, was appointed to Metsä's 3D fibre product project in March 2022. In this ground-breaking project led by Metsä Spring, Tarja is in charge of the commercialisation and piloting of the 3D fibre product Muoto®. She also takes care of the customer interface.
Emilia Vänskä works as the R&D Manager at Metsä Spring and she is responsible for the optimal raw materials, and the functionality development of the Muoto® products. Having already worked with natural fibres, pulp production and specialty papers, Emilia is now excited to add packaging to her portfolio of working experience.
Collaboration between Metsä Spring and Valmet to create fit-for purpose products
The project idea has its roots in Metsä Group's own training programme. Once the concept of layered 3D fibre product was established, Metsä Spring and Valmet launched their joint development in early 2020. Technical and commercial assessment of the concept then led into an investment in a greenfield demo plant in Äänekoski mill site. It started its operations in spring 2022.
"In this project, we focus on three areas. First of all, we are developing a fast manufacturing process to save valuable water and energy. Secondly, we explore the possibilities of the novel production technology developed by Valmet. Thirdly, we design innovative and functional Muoto® products", Emilia Vänskä says. The main raw material for the Muoto® products is wood fibre grown in sustainably managed northern forests.
Plates and trays are the first products made from the new material. The novel technology has not gone unnoticed: the demo plant manufacturing Muoto® fibre products was recently awarded in the national Quality Innovation Award 2022.
The layered structure ensures the high quality, strength, and light weight of the Muoto® products. The structure also makes the products fit-for-purpose: properties can be tailored according to the end user needs for diverse barriers and printability requirements, for instance. What is also important in the concept is that the whole value chain of all raw material components is fully traceable.
High interest from industry and markets
Tarja Heikkilä is delighted with the wide interest among the packaging industry and packaging end users regarding the 3D project. Potential partners and customers have emerged to join testing and further development with the Metsä Spring team. The markets have also expressed a real need for sustainable products, which gives Tarja a nice boost in her daily work when the project can offer something totally unique for the packaging industry.
Emilia Vänskä has been equally impressed by the seamless collaboration and support from the network of experts at Metsä Group. According to Emilia, starting a new process and creating functional products virtually from scratch is a dream come true for an engineer.
To sum up, Emilia and Tarja agree that there is still a lot of work to be done during the demo phase and they are both looking forward to seeing what the future brings next.
More information: www.muoto.io