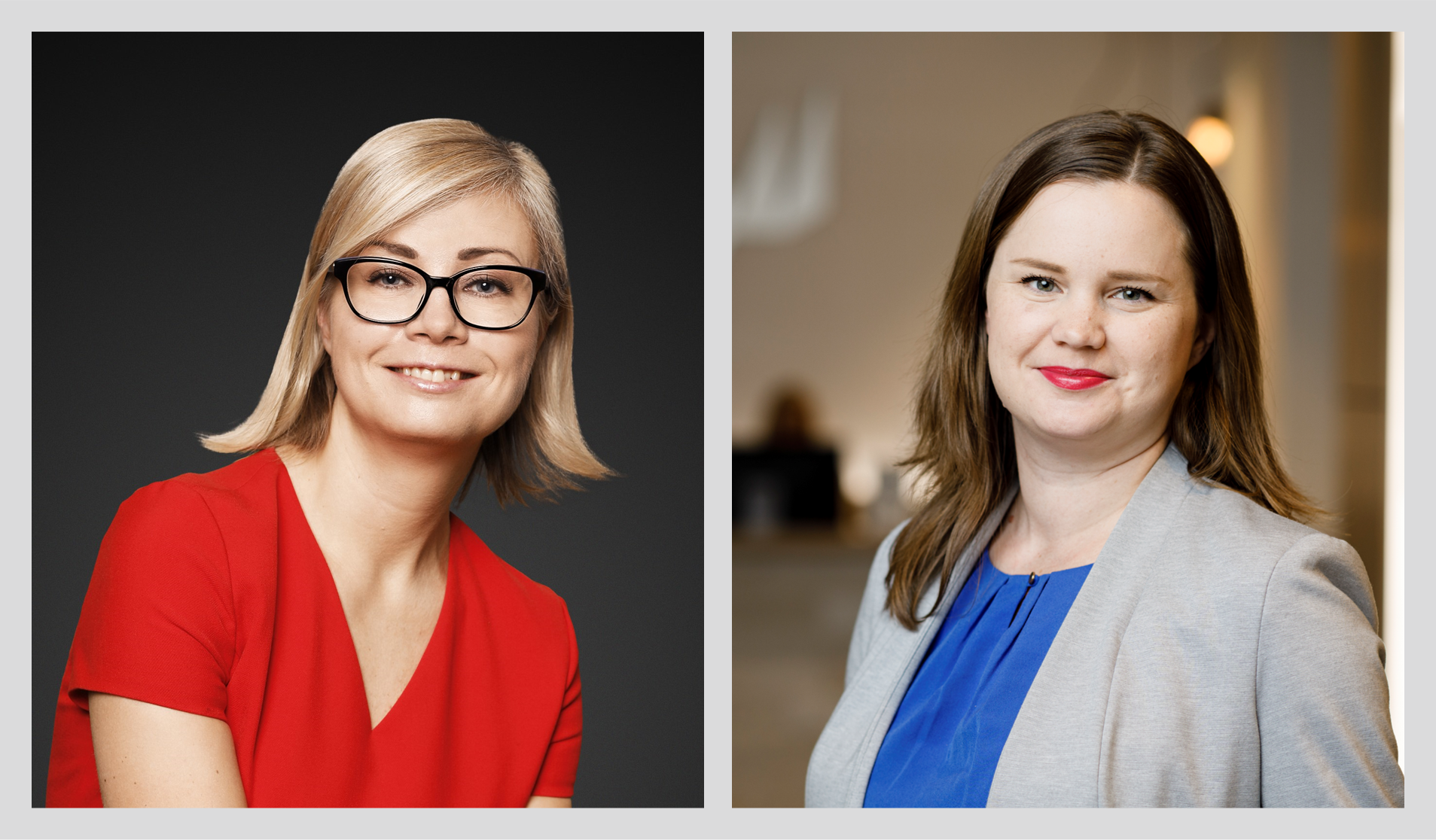 Taking pulp fibres to a new era
News
Raising the added value in bioeconomy calls for collaboration networks and R&D that create new pulp-based products. In an interview by Finnish trade magazine Puu ja Paperi, the programme managers of ExpandFibre, Katariina Kemppainen from Metsä Spring and Heli Virkki from Fortum, explain how pulp fibre will be taken to new heights in the future.
In ExpandFibre, the joint mission of Metsä Group and Fortum is to act as the leading companies for future production ecosystems.
The goal of the four-year Programmes and Ecosystem, funded by Business Finland's first open challenge for leading companies ("veturiyritykset" in Finnish), is to develop new technologies and business concepts that help produce textile fibres and other new bioproducts using pulp derived from straw and wood. Nokia and Neste were the two other winners in the first Business Finland challenge. What is special about ExpandFibre is that the pulp fibre based products developed within ExpandFibre and their intended markets are totally new.
The key persons in the ExpandFibre collaboration between Metsä Group and Fortum are Katariina Kemppainen (on the right in the photo) from Metsä Group's innovation company Metsä Spring and Heli Virkki (on the left in the photo) from Fortum. As managers of the programmes they are actively communicating with each other and with the current collaboration networks.
Different businesses meet in bioeconomy
The collaboration between the two companies is an excellent example of how different businesses are gradually becoming more and more intertwined.
Bioeconomy and further development of pulp is no longer the turf for forest industry alone, but these topics are relevant to the whole Finnish industry, especially at the moment when the call for sustainable development is forcing industries to give up fossil-based raw materials.
According to Heli Virkki, the reasoning why Fortum has joined the collaboration on biomaterials is actually based on the fact that it is no longer feasible to use biomass for energy production. Wood-based biomass has traditionally been used in Fortum's CHP plants to generate electricity and heat. Heli points out: "In the future, instead of burning biomass we need to seek more valuable usage for biomass. This is very well aligned with Fortum's purpose to drive a change for a cleaner world, which we can contribute to by providing smart solutions that improve resource efficiency."
Fortum seeks for such usage by directing the straw raw materials obtained as side streams from agricultural production to industrial processes for producing environmentally friendly materials and chemicals. The goal is to use the main components of straw, namely cellulose, hemicellulose and lignin, and develop them into end products with high added value.
"Early on, we realized that there are so many possibilities in our own field that Fortum does not need to compete with forest industry," says Heli Virkki.
Katariina Kemppainen agrees that bioeconomy has plenty of opportunities to both companies. Biomass-based textiles are a good example of high-volume end products of the future.
"The field is completely open for biomass textiles. It is not so relevant whether the renewable fibres are obtained from wood or agricultural waste. There is room for both of them," Katariina points out.
Kemppainen adds that from Metsä Group's point of view, it is widely recognized as a fact that as the markets for graphic paper are diminishing, there is a need to repurpose pulp for new added-value products.
The programme managers stress that being part of ExpandFibre programme does not mean that the companies would be leading the development work of pulp fibre all the time and everywhere. The existing networks continue their work and are fully capable to do so. Kemppainen says that being a leading company does not mean that the progress aims towards one single goal on one single track. In reality, the R&D is progressing on several different tracks through a number of collaboration projects and companies.
Original article published in Finnish in Paperi ja Puu online (4.12.2020).