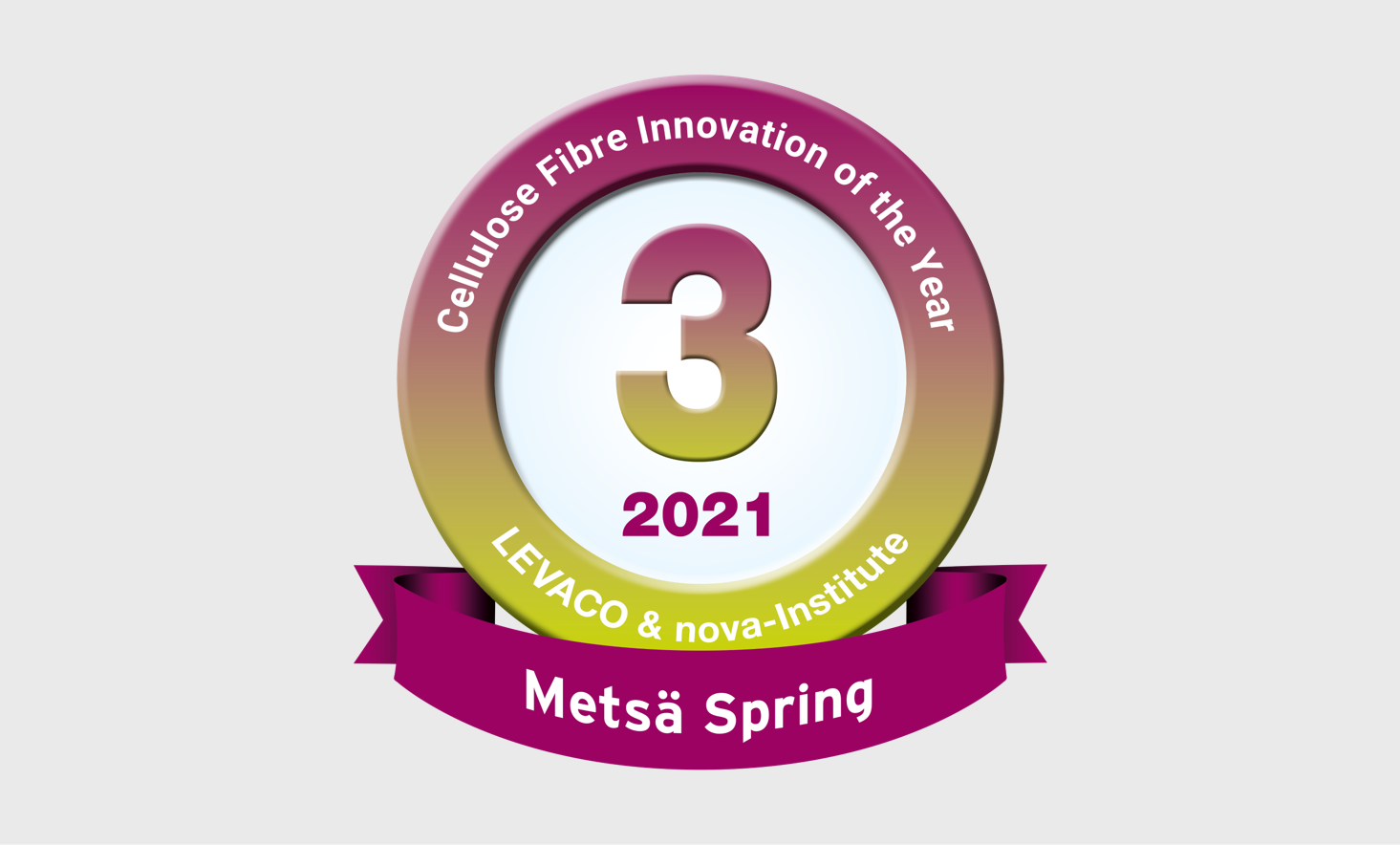 Metsä Spring wins third place in international Cellulose Fibre Innovation of the Year 2021 award
News
In the second International Conference on Cellulose Fibres arranged in early February, the winners of the innovation awards of Cellulose Fibre Innovation of the Year were announced. The 190 conference participants from 22 countries awarded the third place to Metsä Spring's textile fibre based on paper-grade pulp.
The thematic focus of the conference, organised by nova-Institute, was on strategies, markets, technologies and sustainability. As a result of increasing environmental awareness and related regulation, the demand for cellulose-based solutions is growing. The growing market demand in turn leads to rapid technology development that enables material properties previously thought impossible for cellulose fibres. At the conference, the three award winners demonstrated this development by presenting products that completely avoid plastics and further reduce costs and carbon footprint thanks to more efficient processes.

Metsä Group's awarded innovation is a new, energy-efficient process to produce high-quality cellulose fibres for the textile sector. The solution is based on a new solvent family. By using ionic liquids, cellulose textile fibres can be produced from paper-grade pulp. The novel process helps to avoid the use of low material efficiency dissolving pulp as a raw material, which brings along promising ecological and economic advantages. This allows to tap into further markets for sustainable textiles.
Niklas von Weymarn, CEO of Metsä Spring said: "It is an honour to have been chosen among the top 3 in this year's competition. I direct my "thank yous" to many persons and organisations. Achieving this stage in our project would not have been possible without a very broad network of partners."
Awards were given as follows:
1st place: Stora Enso (Sweden): Cellulose Foam by Stora Enso – a lightweight cellulose foam for packaging
2nd place: Kelheim Fibres (Germany): Fibre solutions for plastic-free absorbent hygiene products
3rd place: Metsä Spring (Finland): Textile fibre based on paper-grade pulp
More information about Metsä Springs project:
http://www.metsaspring.com/project/textile-fibre-from-paper-grade-pulp